Ref:
Date:
Location:
Photographer:
Ref:
Date:
Location:
Photographer:
"the midsummer garden" finchingfield guildhall june - july 2017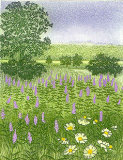 "The Midsummer Garden"
This is a themed exhibition by selected members the Society of Botanical Artists. It runs from Friday 23 June to Sunday 9th July and coincides with an Open Garden event.
Finchingfield is a conservation village with many interesting historical buildings and the 15th century Guildhall is an ideal place to showcase plant and flower-inspired works.
I'll be joining a group of SBA colleagues working in a variety of media. There will be framed works, giclée and original prints and cards for sale.
I'll be showing etchings and possibly some new garden based summer landscapes - if I get down to work quickly...
Finchingfield Guildhall
Church Hill
Finchingfield
Essex
CM7 4NN
01371 811 333
www.finchingfieldguildhall.org.uk/
contact@finchingfieldguildhall.org.uk
Image: "Wild Garden" etching by Helen Hanson